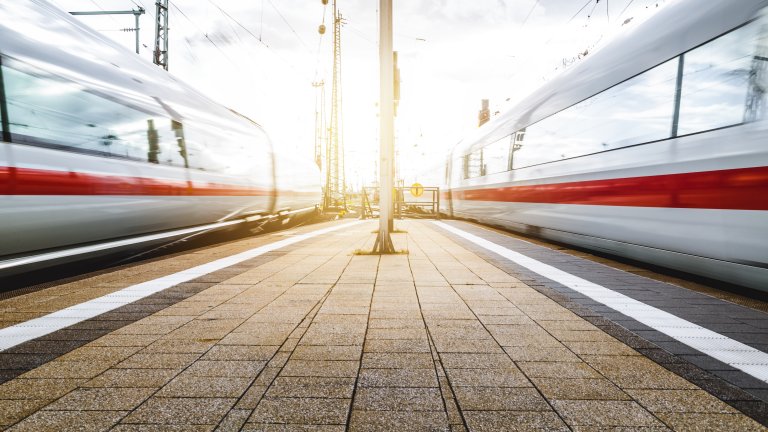 © nokturnal | Adobe Stock
Rail Systems Technology
Berlin-Brandenburg leads the way in the field of rail transport technology. More than 100 companies and scientific institutions with more than 20,000 employees secure the region's position among Europe's most important centres for research, development and production.
The sector's heavyweights Siemens, Alstom, Stadler, Voestalpine BWG and numerous small and medium-sized enterprises cover a broad array of activities ranging from vehicle manufacturing, rail construction to signalling technology and services related to rail transport. The well-positioned industry opens up new opportunities for suppliers, for example through the creation of tier-1 or tier-2 system capabilities, which in turn leads to an additional creation of value within the region.
Along Berlin's public transport company BVG – Germany's largest municipal transport provider – other transport businesses, such as Netinera and its ODEG, Abellio, Transdev, Captrain and its rail companies Industriebahngesellschaft Berlin and Niederbarnimer Eisenbahn, BEHALA, or the railway company Havelländische Eisenbahn have their headquarters in Berlin or Brandenburg.
International importance
Berlin-Brandenburg is an internationally renowned science location: the Technical University of Berlin, the University of Applied Sciences Brandenburg and the Brandenburg University of Technology Cottbus-Senftenberg provide substantial and comprehensive expertise in the fields of automotive engineering, infrastructure and rail operations ranging from basic research to development support. The economic and scientific communities have taken on key roles in the advancement of European projects focusing on the development of a railway system of the future.
Pan-European connections
The area of rail transport technology is a growing sector of the capital region and thus an integral part of the Cluster Transport, Mobility and Logistics. Cooperation takes place with other clusters, inter alia, in the framework of the European Railway Clusters Initiative (ERCI). European Rail Research Network of Excellence (EURNEX) Berlin office coordinates Europe's research competence in the railway sector.