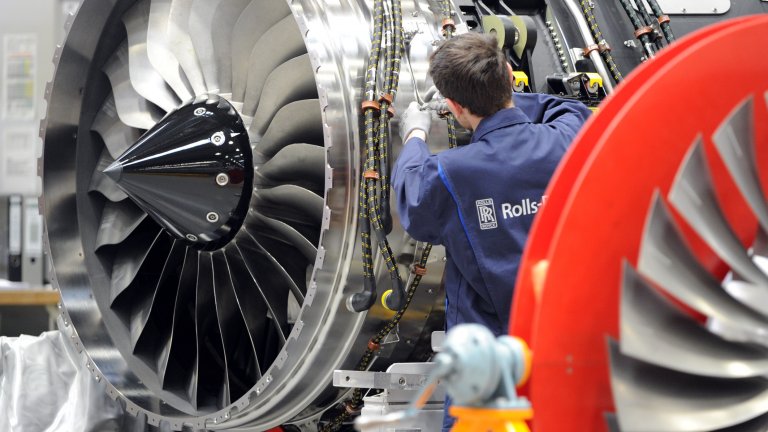 © Rolls-Royce
Aerospace
The aerospace industry is deeply rooted in the history of Berlin-Brandenburg. It all began 120 years ago with the aeronautics pioneer Otto Lilienthal and his attempts to fly. Today the capital region has become Germany's third-largest aerospace competence centre.
The key areas are:
engine development and manufacturing,
light aircraft manufacturing,
aircraft maintenance and servicing,
manufacturing of small satellites and small satellite subsystems,
testing, development-related and production-related services, as well as research, development and use of unmanned aviation systems (drones).
When it comes to engine development and engine manufacturing, Berlin and Brandenburg rank among the leading European locations. The location boasts not only such formative prime contractors as Rolls-Royce Germany and MTU Maintenance, but also other businesses, such as Deutsche Lufthansa, and numerous small and medium-sized enterprises, e.g. Astro- und Feinwerktechnik Adlershof, which is focused on precision engineering, as well as prestigious research and training institutions, e.g. the Technical University of Berlin.
Unmanned aviation systems recently joined the well-established other areas. In this particular area there is a strong momentum towards innovative applications and services. The area of small satellites dominates the region's space industry.
BBAA (Berlin-Brandenburg Aerospace Alliance)
At the regional level, the industry network BBAA (Berlin-Brandenburg Aerospace Alliance) works together with the Cluster Management towards strengthening the region with regard to selected specific topics of the aerospace field.
Through its participation in the EU project CARE (Clean Aerospace Regions) and the project EEAS (Energy Efficient Aviation Systems), the BBAA coordinates and supports the region's already established research and development cooperation mainly with regard to the topics of energy-efficient aircrafts, fuel-efficient drive systems and the use of lightweight materials, and by doing so it strengthens the region's competitiveness in the field of environmentally friendly aviation.