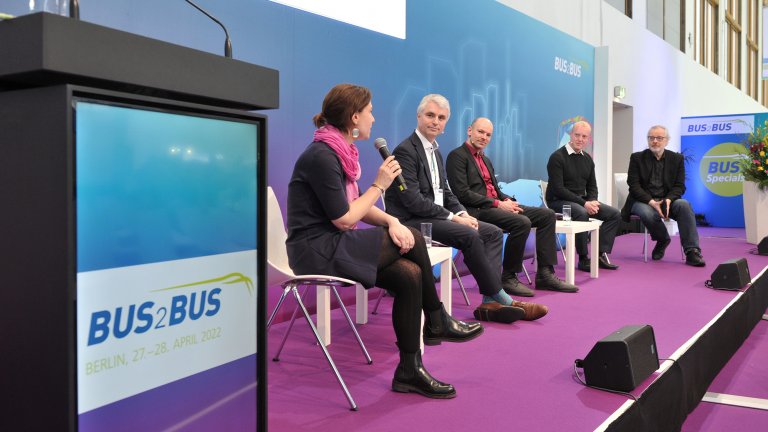 © Messe Berlin
Panel discussion "Autonomous driving - status quo and vision" at Bus2Bus
Where is the journey going in the innovation field of "autonomous driving"?
On 28 April 2022, four experts from business, research and administration discussed this question in the talk "Autonomous Driving - Status Quo and Vision" organised by Berlin Partner and the Transport, Mobility and Logistics Cluster at this year's Bus2Bus, the industry get-together for the German and European bus and supplier industry organised by Messe Berlin. With over 1,700 participants and more than 100 exhibitors, the third edition of the Bus2Bus trade fair was able to match the level of previous years (before Covid).
Mélanie Jachtner (Senate Department for the Environment, Mobility, Consumer and Climate Protection), Dr Daniel Hesse (BVG), Falco Schuett (IOT+ Network) and Robin Schütte (BeIntelli project - TU Berlin) vividly presented the innovative projects with which the capital region is already leading the way in autonomous driving - but also the challenges that still need to be overcome: complex driving situations under different conditions in particular still offer plenty of scope for R&D and innovation projects.
You missed the panel discussion?
No problem: the recording of the panel discussion is still available in the on-demand stream of Bus2Bus until mid-May.