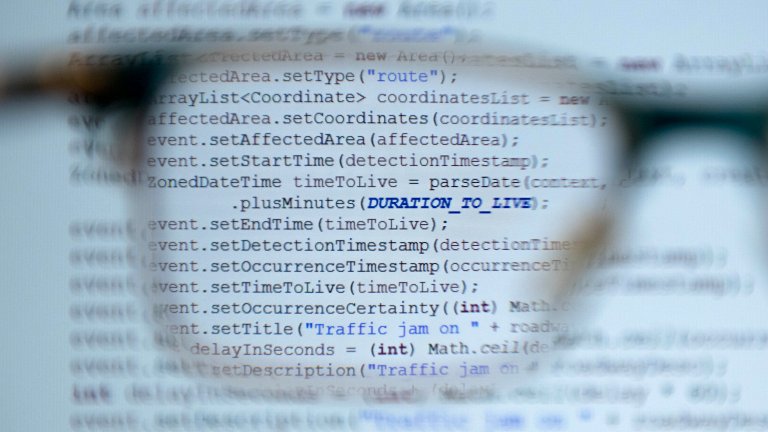 © WFBB
New Logistics System Predicts Congestions
2017 could be the decisive year for the start-up "Synfioo", which was founded by former employees of Potsdam's Hasso Plattner Institute (HPI) in 2015. In July, the two young CEOs Andreas Meyer and Marian Pufahl will join a new client on stage at a customer event of the software giant SAP. They hope to make even more logistics clients aware of their product. By offering state-of-the-art digital technology, "Synfioo" aims at making transport companies' entire route from the company all the way to the client even more transparent.
"The idea is simple, really"
"Our software enables logisticians to receive timely information about all kinds of disruptions that might occur during a transport," says "Synfioo" co-founder Marian Pufahl. For three years, software engineers and a logistics business have worked together on developing the system at the HPI. "The idea is simple, really," says Pufahl. He added that nobody had so far thought of using it in the logistics sector. "For the logistics sector, it is very important to know exactly when a shipment arrives." Delays can then be communicated to the processing industry, which might have to adjust accordingly. The system developed by the aforementioned group automatically searches for all current disruptions online. A disruption might be a simple congestion on the highway A 9 or a delay at the Eurotunnel in Calais. "Time is of the essence especially at those transition points, and of all places it is also where communication is not possible," says Pufahl.
"Synfioo" uses hundreds of websites to access information ranging from weather services to information on congestions and draws conclusions. "Synfioo" combines all of the delays and calculates the probable time of arrival, and this information is very valuable for clients.
"We at Synfioo focus on data processing," informs Pufahl. The founding team applied the principles of artificial intelligence (AI) – the rapid evaluation of large data volumes based on a certain algorithm – and used them in the field of logistics. This fact positioned the product in the forefront within the logistics sector, and, provided it gets more famous, it might have a considerable impact. "This year, it is our goal to become productive for a handful of clients," explains Pufahl.
"Synfioo" has very high hopes for being represented on the online platform of the transport sector RIO. Both CEOs are also convinced that so far there is no similar product on the market. However, this could rapidly change once the logistics sector becomes aware of the advantages of the digital revolution.
"Arrival times are becoming increasingly important in the logistics sector."
The still young business in Potsdam's location Babelsberg with its currently nine employees considers itself strongly positioned within Brandenburg. At the capital region's junction between West and East, a huge logistics sector offers many potential clients. The system the youngsters are offering still has a unique selling point. "The logistics field has promoted digitisation predominantly in other areas," says Pufahl.
The business strives to grow much stronger in the Media Park Babelsberg. Thanks to a successful round of financing, the two CEOs will be able to employ more persons in the course of the year. Product developers and marketing experts are welcome aboard. "Now it is necessary to focus on sales and to place our product on the market."