© BVG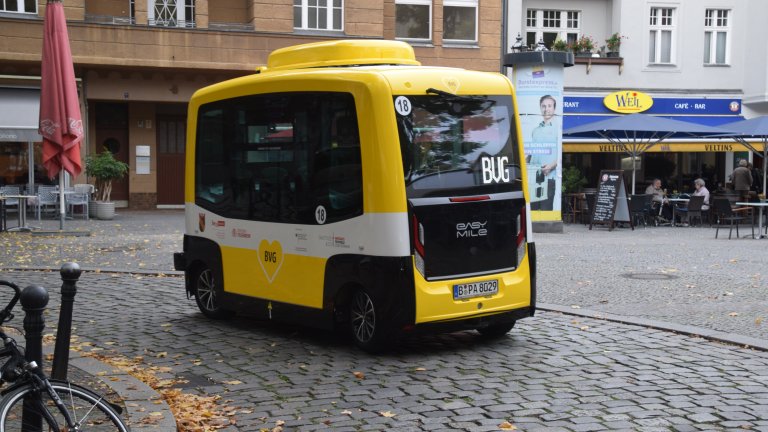 28. January 2021
9:00 AM – 12:00 PM
Video Conference Berlin – Barcelona
Autonomous and connected driving is one of the most important trends and, at the same time, one of the greatest challenges for the future of mobility. It involves technical, economic, and legal issues that have a major influence on the steps and the speed at which autonomous driving will become established in real world traffic. With spatially and temporally limited "sandboxes", cities and regions are working together with industry and science to collect important findings with autonomous transport.
Initiating exchanges of experiences
The digital event is intended to initiate exchanges of experience between the metropolitan regions of Berlin and Barcelona regarding current projects in autonomous and connected driving. At the same time, the legal aspects of this topic will be examined in greater depth. The ultimate goal is to stimulate cooperation between companies and institutes in both regions - e.g. within the framework of European pilot projects. A follow-up event later in 2021 in Berlin or in Barcelona will help to further develop this process.
09:00
Welcome and introduction | Aims of the event
Thomas Meißner | INFABB e. V. and Berlin Partner for Business and Technology
Christian Liepert | AXIKON and InterConnect Group
09:15
Autonomous driving in Spain - legal framework and future expectations
Nils Döhler | Marinel-lo @ Partners Abogados (M@P) and InterConnect Group
09:35
A legal view on cyber security in autonomous vehicles
Dr. Justus Gaden | Büsing, Müffelmann and Theye (BMT)
09:55
Autonomous bus transport of the future - roadshow for the population of Catalonia
Joan Prat i Trapé | AMTU – Municipalities Association for the Urban Transport and Mobility
10:15
Shuttles & Co. project – pilot project with automated shuttle bus in the north city area of Berlin
Potentials to scale-up
Malte Jacobsen | eMO Berlin Agency for Electromobility
10:35
Autonomous vehicles - experience with validation procedures and research projects
Álvaro Arrúe | Applus+ IDIADA
10:55
Challenges in the development of autonomous shuttles against the background of dynamic regulation in Germany
Mathilde Krampitz | IKEM
Hans-Christian Winter | IAV GmbH
11:15
Panel discussion - Where can Berlin and Barcelona work together profitably?
Moderator: Thomas Meißner
Participants: (Individual) speakers of the lecture programme and other experts, where available
11:45
Summary and outlook for the follow-up event in Barcelona or in Berlin
Christian Liepert and Thomas Meißner
Organising team
The video conference is organised by 
in cooperation with
InterConnect – Transnational Business Group, Barcelona
Büsing, Müffelmann und Theye (BMT), Berlin
Please note
Participation is free of charge.
The access data for the digital event will be provided a few days in advance to registered participants.